The Educational Service Unit #11 in Holdrege, NE announces that Dr. Greg Ba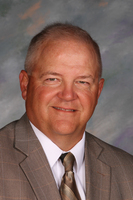 rnes has been selected as the new ESU #11 Administrator.
Dr. Barnes is the current superintendent of Seward Public Schools and has been in that position since 2007. Dr. Barnes also served as Superintendent at Bertrand Community School for eight years and principal for two years (1997-2007). Bertrand Community School is a member school of ESU #11. Dr. Barnes began his career in Chambers Public Schools where he taught for four years and was 7-12 Principal for six years.
Dr. Barnes and his wife Pam look forward to returning to the Holdrege area and meeting the people who work at ESU 11 as well as in the schools served by the ESU. Dr. Barnes and his wife have two daughters in the ESU 11 area, Brittney Osterbuhr and her husband Nic and son Brooks, and Courtney Johnson and her husband Jay and daughter Stella. They also have son Trey who is a senior in college at Concordia University in Seward.
The Board worked with the search firm of Baker and Rastovski School Services. The ESU #11 Board made their selection from over 20 candidates. The Board wishes to express their appreciation to the ESU #11 administrators and leadership team who provided input to the process. The Board made use of surveys, interviews and the distance learning system in their process.
Dr. Barnes will assume the position of ESU #11 Administrator effective July 1, 2017, succeeding Dr. Paul Tedesco, who is retiring.