---
Links
---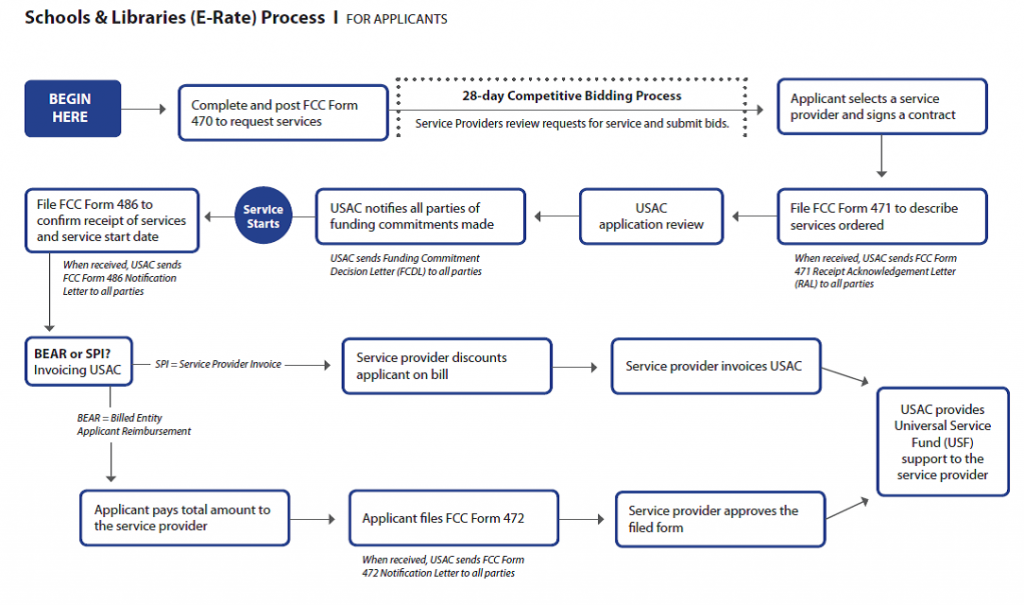 ---
The Universal Service Fund (USF) was created by the United States Federal Communications Commission (FCC) in 1997 to meet the goals of Universal Service as mandated by the Telecommunications Act of 1996. The 1996 Act states that all providers of telecommunications services should contribute to federal universal service in some equitable and nondiscriminatory manner; there should be specific, predictable, and sufficient Federal and State mechanisms to preserve and advance universal service; all schools, classrooms, health care providers, and libraries should, generally, have access to advanced telecommunications services; and finally, that the Federal-State Joint Board and the FCC should determine those other principles that, consistent with the 1996 Act, are necessary to protect the public interest.
The Universal Service Fund (USF) is one fund with four programs.  The four programs are:  High Cost, Low Income, Rural Health Care, and Schools & Libraries.
Schools & Libraries – This program, also known as E-Rate, provides subsidies for Internet access, telecommunications services, internal infrastructure and basic maintenance of internal connections to schools and libraries. The subsidies pay a percentage of costs based on need, with rural and low-income schools receiving the greatest subsidy. This support goes to service providers that provide discounts from 20% to 90% based on the level of poverty and the urban/rural status of the population served. Eligible schools, school districts, and libraries may apply individually or as part of a consortium, and must provide the hardware and software elements that are necessary to utilize the connectivity.
Click here for the complete Wikipedia article.